One of the transport and logistic centers in a zone situated near Moscow, is the terminal of joint stock company "Contrans" which adjoins Tuchkovo's railway station.
Joint stock company "Contrans" is outside of the Big railway ring of Moscow at distance of 59 km from MKAD.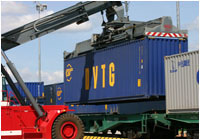 Our purpose – assistance to civilized development of business in the logistics sphere, to formation of the developed infrastructure of service in this sphere, protection of corporate interests of the enterprise, to introduction modern business of technologies and new forms of firm service.
Our task – development and realization of uniform strategy a razvyitiya, development of business cooperation in Russia, CIS countries and foreign countries, and also formation of corporate culture.

To ensure high-performance high-quality service we have reliable partners in Russia in the following cities: Moscow (DW Alliance), Zabaikalsk (DVTG-Terminal), Nakhodka (Nakhodka Sea Fishing Port).
Commercial success of the operation of container terminal of JSC "Kontrans" in Tuchkovo consists of many components.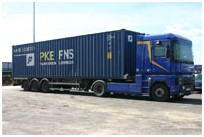 One of the main points: the availability of supply and demand of the complex. The company "Kontrans" entered into several contractual relationships with shippers and consignees who are interested in the implementation of continuous traffic. One of the main clients of LG Electronics Rus. The plant of LG is located in close proximity to the terminal Kontrans 14 kilometers.
No less important is the location of the nearest railway station. Terminal "Kontrans" is located in close proximity to the station Tuchkovo, distance delivery and cleaning of wagons is less than 500 m.
You must also take into account the location of the nearest customs authority. From June 2011 on the territory of TSW Kontrans works department of the customs clearance and customs control, allowing you to quickly perform customs clearance.
When using any terminal is no less important and the availability of easy entrance for cars. At 4km from the terminal "Kontrans" runs Mozhayskoe, 8 km trail runs (M1) of the Minsk highway, at the same distance there is also the Big Moscow Ring highway.