Dear colleagues!
If you solve your logistical problems you have to use the services of container terminals in Moscow, then you should be well aware of all the associated problems and costs. Congestion stations, limited production area terminals, vehicle driveways and parking areas; traffic jams on the streets of Moscow and the Moscow Ring Road, recorded in road transport tariffs, as well as additional fees for delivery outside the ring road - all this goes additional transportation costs to the consignee.
Container Terminal JSC Contrans, located 65 km west of Moscow in Tuchkovo, may be more convenient for you geographically, and mutually beneficial cooperation with us will help you optimize your logistics costs and improve your competitiveness.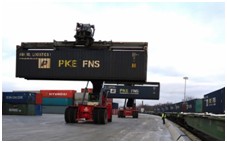 Terminal Сontrans intended for a full treatment of large containers. Convenient geographical location allows to receive and send containers as rail and road transport. The terminal has two railway tracks with total length of over 1,000 m and open space for warehousing and storage containers of various sizes with total area of 30,000 square meters that can simultaneously accommodate up to 4,000 TEU.
The container terminal uses the latest cargo-handling equipment - reachstackers FERRARI, KALMAR and FANTUZZI by loading capacity of 45 tons that allows quickly and operatively to carry out processing of containers.
JCS Contrans offers mutually beneficial cooperation and the following services:
processing and storage of containers at warehouse;
the organization of autodelivery of containers across Moscow and the Moscow region;
sending empty and loaded containers by rail;

handling of goods under customs control;

receipt / dispatch of containers with dangerous goods.
​
We are guided by the following principles of work: accurate interaction, informing and responsibility for result of work.